Why Have a Website?
Your company services and product information will reach the finger tips of current and potential customers worldwide, 24 hours a day, 365 days a year for less than the cost of a single regional magazine or Yellow Pages' advertisement.
Let Landeros Design help you create a custom Website that will impress your customers, set your company apart from the competition, and let you offer your services and products to the international marketplace. With prices starting as low as $600, we put a professionally designed Website within reach for any business, organization or individual. Start with a simple 3-page starter site or build a large site up to 30 or more pages. There are no limits to what you can do!
Mobile Website Design & Development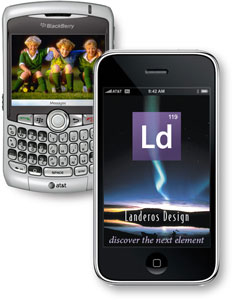 There are currently over 60 Million mobile device users and this number is growing exponentially, making mobile-device websites the next dominant internet platform.
There are many different techniques and technologies we use when developing a mobile website. For instance, for restaurants, we create "Interactive Menus," that enable customers to remotely send in orders. For photographers, we create "On The Go Portfolios." For musicians, poets, authors and teachers, we create "Mobile Audio Libraries." For retailers there's "Shopping On The Go." Then there's video, which every business can use... and the list goes on.
Contact us for a free consultation on how the features and technologies of a mobile friendly website can benefit your business.
E-commerce
And if selling products online is your goal, we can add an e-commerce store to any site. Your store can be extremely simple and inexpensive to operate for low volume sales, or it can be large and complex for selling many different items at volume, accepting credit cards online with your own merchant account.
Landeros Designed Websites
Be sure to view examples of some of the many websites we have designed, developed and maintain.
Getting Started - The Web Development Process
We offer a clear, understandable path to building your Website. It is a straightforward four-step process.
1. Free Consultation
You will speak with the designer and explain your business. Once you have described the goals of your Website, you will send us your company's logos, copy, and any marketing materials that you would like to include.

2. Design
After the designer has received the materials that you have supplied to use in your site, the first draft of your site will be created to reflect the look and feel that was agreed upon in the consultation.

3. Review/Revise
Once the first draft of your site is completed, it will be posted on a private site on the Web where you will be able to access it at any time. The designer will contact you and set up a time to review your site-in-progress. After noting your comments about the first draft, any changes discussed in your review will be incorporated into what is usually very close to the final draft.

4. Approve/Launch
You will review the final draft of your site and make any adjustments that are necessary before approving your site for launch. Once your approval has been received, your site will be published to the Internet, and your business presence will be launched online and visible to the world.
Site Maintenance
Once your site's design has been finished and launched, you will undoubtedly need additions and revisions to keep it up to date with your ever growing and changing business. Because we are small and local, we can provide quick response in updating, modifying and managing your site. We can provide regular maintenance and updating at a reduced rate, or as needed at regular rates.
Website Promotion
We can also see to it that your site is promoted with specifically tailored submissions to all the major search engines, optimal keyword research and embedding, links exchange programs, web log analysis, customized reports and other advanced techniques so that you gain maximum web presence and increase traffic to your site.
Web Empowering Tutorials
Our philosophy is not merely to design a fine website for our clients, but also to empower them to control and maintain their own sites for making those time-critical changes or simple, regular updates. To that end we are glad to offer personalized Web Empowering Tutorials at a basic package rate of $500.
Pricing
Please go to the Rates page for details on pricing for web development and other services.