About the Landeros Design Group
Located in Medford, Southern Oregon, Landeros Design is a complete graphic arts studio, offering the following services, simply and affordably.
Graphic design & illustration

Concept & content development

Web design & development & maintenance

Mobile webite design & development
Corporate ID, trademark & logo design

Photographic restoration & repair

Page layout
Now specializing in mobile website design & development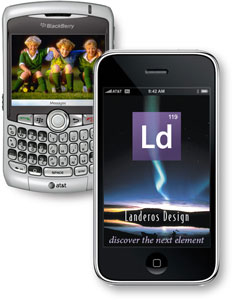 There are more mobile phones in the world than PC's and television sets combined. We almost need say nothing more.
But we will...
There are currently over 60 Million mobile device users and this number is growing exponentially, making mobile-device websites the next dominant internet platform.
Regular desktop websites are not well-suited for handheld mobile devices in terms of design, content and functionality. Landeros Design know how to design sites to make the mobile user experience simple, pleasant and productive... the way it should be, the way it needs to be.
Contact us for a demonstration of mobile sites we have created and for a free consultation on how the features and technologies of a mobile friendly website can benefit your business.
Thank you for visiting this site. I hope you find the contents of some interest and value. We look forward to the possibility of working with you.