There are more mobile phones in the world than PC's and television sets combined.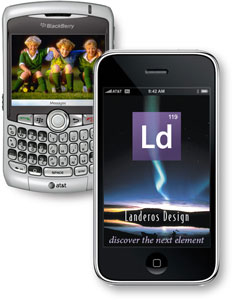 We almost need say nothing more.
But we will...
There are currently over 60 Million mobile device users and this number is growing exponentially, making mobile-device websites the next dominant internet platform.
Regular desktop websites are not well-suited for handheld mobile devices in terms of design, content and functionality. Landeros Design know how to design sites to make the mobile user experience simple, pleasant and productive... the way it should be, the way it needs to be.
There are many different techniques and technologies we use when developing a mobile website. For instance, for restaurants, we create "Interactive Menus," that enable customers to remotely send in orders. For photographers, we create "On The Go Portfolios." For musicians, poets, authors and teachers, we create "Mobile Audio Libraries." For retailers there's "Shopping On The Go." Then there's video, which every business can use... and the list goes on.
Contact us for a demonstration of mobile sites we have created and for a free consultation on how the features and technologies of a mobile friendly website can benefit your business.