Cast & Characters
John Hurt
John Hurt plays Doctor Turner, the enigmatic psychiatrist in TENDER LOVING CARE.
Mr. Hurt is one of the world's great cinema actors. He is a Golden Globe and Emmy winner and was nominated for Academy Awards for his roles in MIDNIGHT EXPRESS and ELEPHANT MAN.
He has also starred in 1984, ALIEN CONTACT, LOVE AND DEATH IN LONG ISLAND, and many other motion pictures.

Michael Esposito
Michael Esposito plays the husband in TENDER LOVING CARE, distraught over his wife's mental illness and obsessed with her mysterious therapist.
Michael grew up in a small town, Newburgh, New York, on the Hudson River. He studied theatre at Niagara University, moved to Los Angeles after graduation and immediately started acting in commercials and television. His first film role was opposite Timothy Leary in FATAL SKIES.
Michael has acted in many Los Angeles area theatre productions and has appeared on television in several shows including MELROSE PLACE, DEADLY GAMES, and a recurring role on HIGH SIERRA SEARCH AND RESCUE.
Beth Tegarden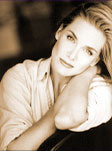 Beth Tegarden plays Kathryn Randolph, RN, the assertive psychiatic nurse with her own unorthodox methods. In another soon to be released film called GERMANS, based on the Leon Kuczkowski novel and play, she plays a Nazi zealot in an intellectual family divided by Third Reich ideology.

On stage in New York she co-starred with Steve Martin in THE GREAT FLYDINI, which Martin also directed.
Beth went to New York to study acting and was signed by the Ford modeling agency. She was able to support herself with modeling and commercial acting jobs while studying with Elaine Aiken of the Lee Strasberg institute. She has appeared in several television shows including a recurring role on the soap opera Ryan's Hope.
Marie Caldare as Allison Overton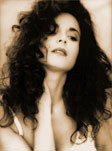 Marie Caldare plays the disturbed wife in TENDER LOVING CARE.
Marie is a Canadian by way of British Guyana. She studied in New York and appeared in several off Broadway plays before moving to Los Angeles. She has guest starred in many television shows including MARRIED WITH CHILDREN, DREAM ON, QUANTUM LEAP and CULTURE CLASH.